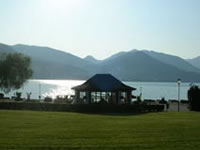 Bad Wiessee is situated within easy reach, approx 1 hour by hourly bus (bus stop located directly outside Haus Adrian) or by train from Gmund of Munich, the charismatic lively capital of Bavaria.
There are many attractions in this beautiful area of Germany. To find out more about Bad Wiessee click here
Sightseeing
There are hundreds of kilometers of mapped and signposted walks to suit every taste, from a leisurely stroll around the picturesque lake to a testing mountain hike to one of the many mountain peaks in the area. Walks are open all year round giving contrasting experiences of the bavarian landscape.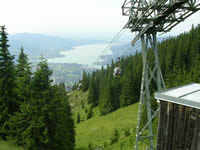 For a spectacular view of the Bavarian Alps or maybe a trial hang-gliding flight, visit the Wallberg. A short bus or bicycle ride from Bad Wiessee, the Wallberg can be ascended by foot or cable car.
Take a ferry across the lake to Tegernsee and sample the famous beer and atmosphere in the Braühaus.
Football, beautiful buildings, parks and fascinating history is an hours train or bus ride away.
Activities
Bad Wiessee Badepark is a splendid water park with 4 outdoor and indoor heated pools, water slides, saunas, solarium jaccuzzis, restaurant bar and lots more.
Bad Wiessee Tennis Club immediately opposite the Badepark with 3 indoor and six outdoor courts gives all year round tennis for experts and beginners alike.
There are several top class golf clubs in the area offering courses in superb locations. There is also a driving range in Bad Wiessee itself. For more information please click here
Fishing, bathing, sailing, windsurfing, rowing, motorboats and pleasure cruises are also available around the lake.
In winter there are many opportunities to enjoy skiing both downhill and langlauf, skating, sledgeing (at 6.5 kilometers the longest sledge track in Germany). All equipment can be hired locally.
There also a casino in Bad Wiesse. Further details can be found here
Eating and Drinking
Bad Wiessee boasts a brand new casino, numerous bars, international and german restaurants and cafes, serving food and drink of the highest quality to suit all tastes. A short drive, bus ride or ferry toTegernsee or Rottach Egern expands the choices even more. The choice of entertainment around the lake is truly amazing. For details of restaurants and cafes in Bad Wiessee please click here
Health and Wellbeing
Germany's strongest iodine and sulphur rich spa water spring is located in Bad Wiessee. Many treatments are available and are reputedly helpful in the natural relief of a number of ailments including rheumatism, circulation problems, eye and skin disorders. To complement the spring are many clinics, beauty and massage therapists, in fact every opportunity to thoroughly spoil yourself in completely relaxing and tranquil surroundings. For more information click here